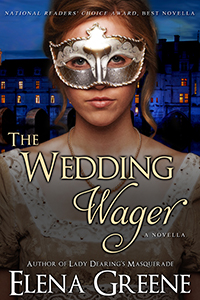 The Wedding Wager
Reissue of a traditional Regency novella from the anthology
His Blushing Bride
Determined to convince his trustees that he is ready to settle down and take control of his estate, Julian Ardleigh, Viscount Debenham, proposes marriage to Harriet "Harry" Woodford, his childhood friend.
Since her one disastrous London Season, Harry has been content to live in the country breeding and training horses, and has no intention of marrying anyone, least of all her rakish friend.
Harry challenges Julian to prove he can change his ways—but neither gambles on losing their hearts!
♥ Kindle ♥ Nook ♥ Apple ♥ Kobo ♥ Smashwords
A Romantic Times Top Pick! (HIS BLUSHING BRIDE)
Winner, National Readers' Choice Award for Best Novella
Reviews for the anthology in which THE WEDDING WAGER first appeared
"There is nothing quite like a cozy Regency read, and this charming anthology with three first-rate tales is one to savor with enthusiasm." (4 1/2 stars) — Romantic Times
"'Tis the season for weddings and His Blushing Bride offers readers three charming stories of romance and happily-ever-after. Each tale is delightfully different, but all are well-written, with refreshingly original plots and intriguing characters. For an entertaining, thoroughly enjoyable celebration of love and marriage, I recommend His Blushing Bride." — Susan Lantz, Romance Reviews Today
♥ Kindle ♥ Nook ♥ Apple ♥ Kobo ♥ Smashwords