Welcome!
I'm a stroke caregiver, mother of two teenagers and author of romance set in the Regency period, including Lady Dearing's Masquerade, which won Romantic Times Book Club's award for Best Regency Romance of 2005 and hit the Kindle Top 100 list in 2011.
Click on the links above to learn more about me, my books, my writing and research. Feel free to contact me. I love to hear from readers!
Audiobook of Lady Dearing's Masquerade
On sale for $6.95, over 60% off the regular price!
Lady Dearing became society's most notorious widow after kissing a stranger at a masquerade but two years later, his memory still haunts her dreams. Sir Jeremy Fairhill has given up hope of finding her, but when he investigates the infamous widow who's taking in children from London's Foundling Hospital, his sense of duty clashes with a dangerous passion for the elusive, alluring Lady Dearing.
Romantic Times Book Reviews Best Regency Romance of 2005!
Regency Masquerades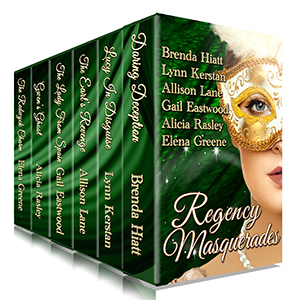 Still a great deal at $3.99!
Six beloved bestselling and award-winning Regency authors bring you six full-length novels of disguise, deception and secret identities. From sweet to subtly sensual, these traditional Regency Romances demonstrate that true love can see through even the most elaborate mask!
♥ Kindle ♥ Nook ♥ Apple ♥ Kobo ♥ Learn more
Lord Langdon's Kiss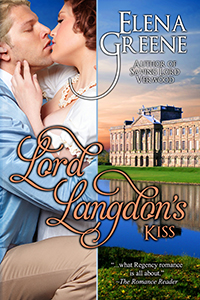 I'm delighted to reissue this revised and improved edition of my first book, originally published in 2000 by Zebra Books.
Lord Langdon returns from war to find his family in debt and his brother courting Nell Ashley, a country miss he suspects of social climbing. He tries to expose her scheme by luring her to pursue him instead. His kiss incenses Nell, who's already angry with him for neglecting his people. As they learn from their mistakes, they create a tangle of hearts that only true love can unravel.
"Lord Langdon's Kiss is a fine Regency romp that will satisfy lovers of the genre like ice-cold lemonade on a hot afternoon. This is what Regency romance is all about." (Four hearts) — The Romance Reader
♥ Kindle ♥ Nook ♥ Apple ♥ Kobo ♥ Smashwords
♥ Paperback (Amazon) ♥ Paperback (Barnes & Noble)