Welcome!
I'm a stroke caregiver, mother of two teenagers and author of romance set in the Regency period, including Lady Dearing's Masquerade, which won Romantic Times Book Club's award for Best Regency Romance of 2005 and hit the Kindle Top 100 list in 2011.
Click on the links above to learn more about me, my books, my writing and research. Feel free to contact me. I love to hear from readers!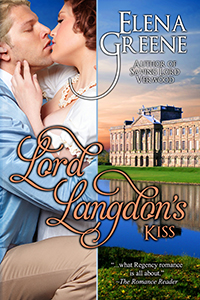 Lord Langdon's Kiss
I'm delighted to reissue this revised and improved edition of my first book, originally published in 2000 by Zebra Books.
Lord Langdon returns from war to find his family in debt and his brother courting Nell Ashley, a country miss he suspects of social climbing. He tries to expose her scheme by luring her to pursue him instead. His kiss incenses Nell, who's already angry with him for neglecting his people. As they learn from their mistakes, they create a tangle of hearts that only true love can unravel.
"Lord Langdon's Kiss is a fine Regency romp that will satisfy lovers of the genre like ice-cold lemonade on a hot afternoon. This is what Regency romance is all about." (Four hearts) — The Romance Reader
♥ Kindle ♥ Nook ♥ Apple ♥ Kobo ♥ Smashwords
♥ Paperback (Amazon) ♥ Paperback (Barnes & Noble)
The Three Disgraces Series
A rebel, an heiress and a wallflower find love where they least expect it . . .
The Incorrigible Lady Catherine ~ "The story gives fresh new twists to traditional Regency plotlines and introduces a well-drawn cast of characters, three of whom cry out for their own tales to be told—the notorious Lord Verwood and Catherine's two school friends." — Jane Bowers, in Romance Reviews Today
The Redwyck Charm ~ "I consider The Redwyck Charm one of the best Regencies I've read in the past few months. Elena Greene is a reliable author who delivers the kind of story Regency readers love." — Barbara Hume, for Rakehell
Saving Lord Verwood ~ "Elena Greene writes an intriguing tale of hope, love and joy. In this clever story of just who rescues whom, the political intrigue and developing passion between the main characters neatly blend together to make a highly pleasurable read." — Romantic Times (4 and 1/2 stars, Top Pick)
♥ Kindle ♥ Nook ♥ Apple ♥ Kobo ♥ Smashwords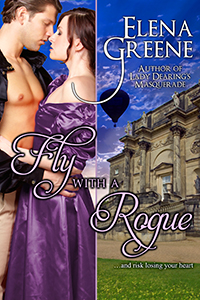 Fly with a Rogue
A village schoolmistress's life takes a turn when a Waterloo veteran turned balloonist crashes near her cottage. Passion sweeps them along, taking them on a scandalous flight across the English countryside. They must marry, but can they make a life together?
"This book does not disappoint and took Regency romance to a whole new level (pun intended)." — (5 stars) Amazon reader review
♥ Kobo ♥ Smashwords ♥ Learn more
♥ Paperback (Amazon) ♥ Paperback (Barnes &amp Noble)