About Me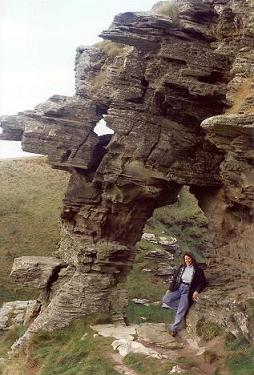 When I was in third grade, I got into trouble with a nun for having one of Georgette Heyer's Regency romances in my backpack. It was Venetia, still one of my favorites.
I continued to love Georgette Heyer's books and devoured other Regency and historical romance novels, but didn't think I could write them myself. I got my degree in math and computer science and took a job as a programmer.
But I must've been meant to write Regencies, because that job eventually led to a three year international assignment in the UK. My husband and I worked and lived near Portsmouth, but on weekends and holidays, we traveled throughout England and also visited Wales, Scotland and Ireland. We climbed around castles, visited stately homes and hiked through all sorts of scenery. I was also lucky enough to find a friend who let me ride her horse around the South Downs, near where we lived. Having been steeped in British nature and history, I began to feel the urge to write.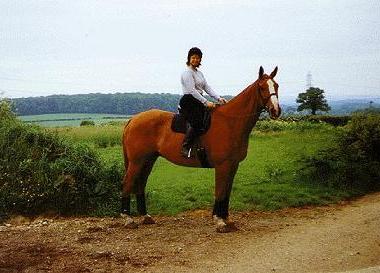 When we moved back to the US, we decided to start a family. Under the somewhat naive impression that babies nap, I embarked on my first Regency romance. I joined Romance Writers of America and its Regency chapter, The Beau Monde and learned a lot from my fellow writers. Lord Langdon's Kiss came out in 2000. I think of it as an embryonic book now. I was trying to write like Georgette Heyer and not quite succeeding, but I'm grateful to the readers who enjoyed the story anyway.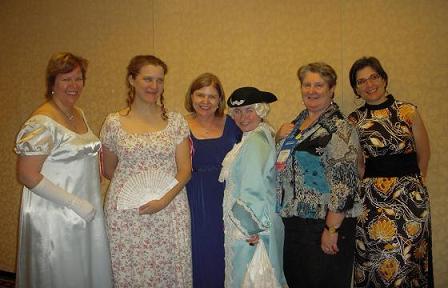 I wrote a Regency novella for the anthology His Blushing Bride, which resulted in my first Romantic Times Book Club Top Pick, and then had another baby. Following that I wrote my "Three Disgraces" series. My writing style evolved and my stories took a more sensual direction. Following the series came a Signet Super Regency, Lady Dearing's Masquerade, a longer and sexier story than I'd written before. I was delighted when it won RT Book Club's Best Regency Romance of 2005. But sadly, it was one of the last Signet Regencies.
I was working on a new story, a Regency historical featuring a Waterloo veteran turned balloonist and began blogging with my friends a the Risky Regencies. Check out the picture of us all dressed up at the 2008 RWA National Conference. (I'm on the far left.)
In 2009, life forced me to take a break from writing. My husband, at just 48 years old, suffered an unexpected and severe stroke, due to a freak tear in his left carotid artery. I had to take a break from writing in order to care for him and our children.
Happily, he has recovered to a great degree and I'm finding time to write again. So now I'm working on a comeback. I have republished most of my backlist titles in both e-book and paperback format. Lady Dearing's Masquerade is also available as an audiobook—my first! I've also recently released the book I'd been working on at the time of my husband's stroke: Fly with a Rogue.
I love to hear from readers! You can email me at elena@elenagreene.com.