Lady Dearing's Masquerade
RT Book Club's Best Regency Romance of 2005 and a Kindle Top 100 Bestseller in 2011, now available as an audiobook, narrated by Robin Rowan
Lady Dearing became society's most notorious widow after kissing a stranger at a masquerade but two years later, his memory still haunts her dreams. Sir Jeremy Fairhill has given up hope of finding her, but when he investigates the infamous widow who's taking in children from London's Foundling Hospital, his sense of duty clashes with a dangerous passion for the elusive, alluring Lady Dearing.
♥ Amazon ♥ Audible ♥ Look for it on iTunes
♥ Learn more ♥ Listen to a sample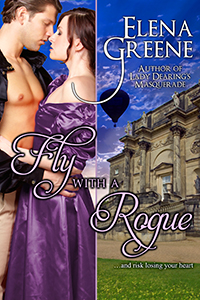 Fly with a Rogue
A village schoolmistress's life takes a turn when a Waterloo veteran turned balloonist crashes near her cottage. Passion sweeps them along, taking them on a scandalous flight across the English countryside. They must marry, but can they make a life together?
♥ Kindle ♥ Paperback ♥ Nook ♥ Apple
♥ Kobo ♥ Sony ♥ Smashwords ♥ Learn more
Other Books
I have reissued five of the Regencies I wrote for the Zebra and Signet lines, the last of which, Lady Dearing's Masquerade, won Romantic Times Book Club's award for Best Regency Romance of 2005. I'm thrilled to say that Lady Dearing's Masquerade and my "Three Disgraces" series have been on the Kindle Historical Romance Bestseller list!
I also plan to do some revisions on my very first book, Lord Langdon's Kiss, and then reissue it in both e-book and paperback formats.